Recent Publications
"Prodigal" was reprinted in The Year's Top Ten Tales of Science Fiction 9 edited by Allan Kaster, published by AudioText. Audiobook version read by Tom Dheere, Nancy Linari and Henrietta Meire.
Buy it now in a range of formats:
Audiobook: Audible; Ebook: Amazon.com, Barnes & Noble, or iTunes; Trade paperback format: Createspace; Audio CD collection: Audiotext.
"Prodigal" was reprinted in The Year's Best Science Fiction: Thirty-Fourth Annual Collection edited by Gardner Dozois (St. Martin's Griffin, July 2017).
Buy it at Amazon.com, Amazon.co.uk, Amazon.co.jp, Barnes and Noble, iBooks, Kobo, eBooks.com, Google Play, Books-A-Million, Indiebound, or Powells.
"Focus" was recently published in Analog Science Fiction and Fact (May/June 2017).
Buy it on newsstands or get a subscription from one of the sites listed here.
"Prodigal" was reprinted in The Best Science Fiction of the Year, edited by Neil Clarke. (Night Shade Books, April 2017).
Buy it from one of the places listed here.
"Prodigal" (Czech translation by Ľudovít Plata) appeared in XB-1 (06.2017).
Il paese della giovinezza. (Future Fiction: 25 March 2017). Digital collection of short stories in Italian translation. (Edited by Francesco Verso, translated to Italian by Fabiano Fiore, cover art by Chiara Topo.)
Available at Amazon.it or from the publisher's website. 
"Prodigal" appeared in Chinese translation in Science Fiction World (03.2017).
"Prodigal" in Analog Science Fiction and Fact, December 2016.
Get a copy on newsstands, at Amazon.com, direct from Analog, or through one of these digital vendors listed on Analog's website: Barnes & Noble | iTunes | Google Play | Magzter | Kobo
"The Incursus, by Asimov-NN#71" at Big Echo, Summer 2016.
"ἱερὸς γάμος [Hieros Gamos]" in Cthulhusattva: Tales of the Black Gnosis. Martian Migraine Press. 23 May 2016.
Buy a print or digital copy direct from Martian Migraine (worldwide shipping available), or at Amazon.com.
"The Bernoulli War" reprinted in Forever. Issue 14, March 2016.
Buy this issue from:Amazon, Apple, B&N, Kobo, Weightless Books, Wyrm Publishing.
"Beyond Mere Lotophagi." (A Scenario Generator for Lamentations of the Flame Princess and Other FRPG Games.) Green Devil Face #6. (March 2016)
Available in Print from the LotFP webshop. Now out of print, sorry!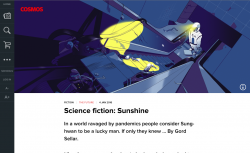 "Sunshine," free to read online at Cosmos, 4 January 2016.
"The Spurned Bride's Tears, Centuries Old, In the Rain" in Lontar 5, ed. Jason Erik Lundberg. (2015).
Available in print (@Epigram Books or Kinokuniya) or DRM-free ebook (@ Weightless Books)
"The Return of Sarnath" in Cthulhu Fhtagn!, ed. Ross Lockhart. (2015).
Print and ebook editions available now @ Amazon.com | Amazon.co.uk | Amazon.ca | Word Horde (the publisher)
---
A cotranslation by Jihyun Park and myself of Boyoung Kim's "An Evolutionary Myth,", a modern classic of Korean science fiction, has been published in Clarkesworld, issue #104 (May 2015).
---
See a complete list of my publications and forthcoming work. Some notes on my published stories are here.
Stuff to Read
An annex of
free stuff to read
: stories, poems, & nonfiction.
Recent Music @ Soundcloud: