Recent Publications
"Beyond Mere Lotophagi." (A Scenario Generator for Lamentations of the Flame Princess and Other FRPG Games.) Green Devil Face #6. (March 2016)
Available in Print from the LotFP webshop.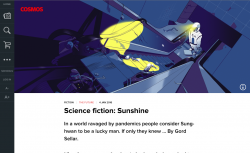 "Sunshine," free to read online at Cosmos, 4 January 2016.
"The Spurned Bride's Tears, Centuries Old, In the Rain" in Lontar 5, ed. Jason Erik Lundberg. (2015).
Available in print (@Epigram Books or Kinokuniya) or DRM-free ebook (@ Weightless Books)
"The Return of Sarnath" in Cthulhu Fhtagn!, ed. Ross Lockhart. (2015).
Print and ebook editions available now @ Amazon.com | Amazon.co.uk | Amazon.ca | Word Horde (the publisher)
---
A cotranslation by Jihyun Park and myself of Boyoung Kim's "An Evolutionary Myth,", a modern classic of Korean science fiction, has been published in Clarkesworld, issue #104 (May 2015).
---
See a complete list of my publications, or information on forthcoming work. Some notes on my published stories are here.
Stuff to Read
An annex of
free stuff to read
: stories, poems, & nonfiction.
Recent Music @ Soundcloud:
My Languishing Flickr Stream